HERE 'N' NOW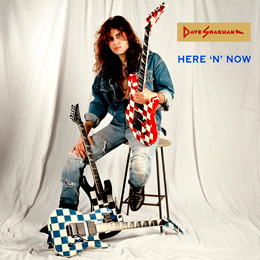 Out Of Time*
You'll Never Know
Tequila Junction
Guiding Light
Here 'N' Now
Dragon Fly
Junkie*
Give Is What You Get
Man On A Wire*
Forever And A Day
4:42
5:13
3:38
5:10
4:31
1:44
5:31
6:04
5:31
5:02
Dave's third studio album is an electrifying mix of songs and instrumentals boasting thunderous riffs and high velocity solos.
PRESS REVIEWS
Electric, acoustic, no matter the flavor, Dave has created a sound that gives him versatility so when he slows a song down he still shines. When he's plugged in, he blisters. His riffs are grooving and his solos are melodic. "Here 'N' Now" is a perfect title because "here" is Dave blending his guitar talent with a vocal instrument and "now" he can write more songs to prove that the pen is as mighty as the axe.
Jeff Rogers, RoughEdge.com
Dave Sharman is the real deal, an unabashed guitar virtuoso who can play anything he wants but chooses varied textures, atmospheres, funky harmonic combinations, notes carefully articulated with the vibrato bar and thrilling runs where he both throws down a speed gauntlet and has something to say in doing so.
Tony Sison aka "The Atomic Chaser", All Access Magazine
FAN COMMENTS
This album should have sold millions. A collection of great songs, this album has long been a firm favourite of mine, and has I have to say been forced upon the ears of many an unwitting listener – but is always received positively. Get it!
Musicman (Amazon UK)
It seems like aeons ago since I first heard Spellbinder on the Friday Rock Show. I was totally blown away with that session (I only wish I could track down a copy of those songs today). I loved the 1990 CD & bought the Exit Within & Graphic CD's as well. It's awesome stuff.
Ramses
So glad you're still making music, i'll never forget the first time i heard you on the Tommy Vance show, you are and will always be the best bro. Keep Rockin!
Daniel Keady