EVOLUTION MACHINE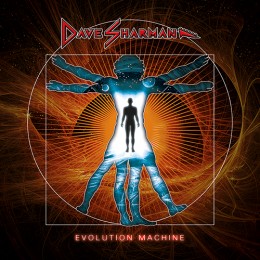 Also Sprach Zarathustra*
Hunger
Evolution Machine
Lady
Just What I Needed**
Priest On A Hill
Liberate
I Am The Sun
As The World
Hold Your Fire
1:48

3:49

4:32

5:58

4:34

3:55

4:34

4:01

3:40

6:08
DAVE'S FOURTH STUDIO ALBUM
Evolution Machine is a Trans-Atlantic rampage of future Rock Guitar classics, blended with Funk and Eastern Influences. Dave's signature finger tapping, impassioned guitar solos and vocals cascade onto each track, displaying both his sophisticated songwriting and technical brilliance. From the Rock 'n' Roll funk of 'Hunger' to the epic, indelible ballad 'Lady', the furious fretwork of 'Hold Your Fire', and the majestic 'I am the Sun' – there is something for all Rock fans on this album, including Dave's unique take on The Cars classic 'Just What I Needed' and the space-age title track 'Evolution Machine'.
PRESS REVIEWS
Evolution Machine is a blistering album of guitar wizardry – calling to mind Steve Vai and Eddie Van Halen – but it also melts into slower, more ballad-like pieces. 
Steven Rosen
Sometimes guitarists left to their own devices can go off on too many tangents, but here I think Dave Sharman has captured the balance of creative indulgence and cohesion very well. Most impressive!
James Gaden, Fireworks Magazine
This is a bold album, which for the most part takes the road less travelled. That in itself makes for an interesting journey.
Brian McGowan, The Midlands Rocks