THE BEST OF
DAVE SHARMAN – VOL II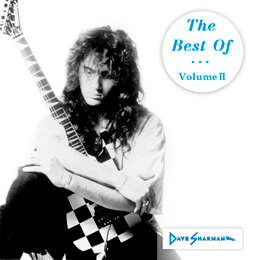 1990 Part I
1990 Part II
Borrowed Time
Breeze
Home
Frantic
Atomic Chaser
Cos You're A Woman
Here 'N' Now
Grace
Forever And A Day
0:58
4:16
4:22
3:50
5:10
1:49
4:20
3:32
4:31
3:13
5:01
"He's probably the finest guitarist to emerge from the European continent in decades and could well single handedly redress the international balance between Europe and the US''. Just a few things the critics had to say about Dave Sharman when he thundered onto the international music scene as a teen prodigy.
Introduced to the world with a session for the legendary BBC Radio 1 Friday Rock Show, this British fretboard monster has since established himself as one of the world's premier rock guitar players.
This compilation is the second of a 2 volume set. Dave's new studio album is due out late 2012, where he'll also don the cap of vocalist as well as multi -instrumentalist.
For now, sit back and enjoy this rollercoaster ride of a guitar fest! From the opening whammy bar explosions of 1990 to the technical wizardry of Frantic or the simple beauty of Grace – this 'Best Of' collection should more than satisfy even the most ardent lovers of guitar music…Dave Sharman, guitar like you've never heard before!
PRESS REVIEWS
Sure Sharman is good, a maestro even, he has that all too rare appreciation of feel, with ample quantities of flair and technique. He displays a wide variety of styles from light, airy acoustic to classical Spanish, and from a bubbly exhibition of hammering-on to banjo-mania, all of which involve the exemplary musicianship of any self-respecting guitar God. As long as he continues to write songs that highlight his abilities without sacrificing structure, Dave Sharman could well prove to be an exciting prospect for the future. He has done well to avoid the pitfalls that so often befall the guitar-based artist, and with a concerted effort may yet rewrite the rulebook.
Sean Tyler, Kerrang Magazine
FAN COMMENTS
This is a performance of the highest professional and artistic level! Absolute spellbinding technical abilities! But not only! – the artistic side of the CD is what makes it precious. It is imaginary versatile and original. This guy will go along way.
Sospiro
Dave's scale runs and arpeggios are flawless. Great progressive rock material.
Jimmy Blau