THE BEST OF
DAVE SHARMAN – VOL I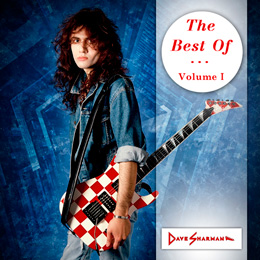 Trucker
Andromeda
Man
Forgotten Souls
Dragon Fly
Southern Comfort
Give Is What You Get
Tequila Junction
Spellbinder
5:03
3:40
6:48
5:11
1:44
4:42
6:03
3:38
2:23
Dave's first three releases – '1990', 'Exit Within' and 'Here N Now' are widely regarded as guitar album 'classics' by the rock fraternity.
This 'Best Of ' compilation along with it's companion 'The Best Of Volume 2' are a fitting testament to the power and energy encapsulated by these three records.
The past has given us many a superlative to describe the talents of this outstanding musician, yet legendary rock DJ Tommy Vance probably said it best when proclaiming the young virtuoso "a wizard of a guitar player and a real world beater". With one listen to this collection there are few who will disagree.
Whether it be the opening knock out punch of Trucker or the cosmic prayer of Andromeda, the tough talking rhythm n' blues of Southern Comfort or the neo-classical shred of Spellbinder, Sharman moves effortlessly from track to track with his own special brand of flair and creativity throughout.
PRESS REVIEWS
Sharman's playing is exemplary throughout, he confidently flits between rock to funk, to blues and all within the bat of an eyelid, fortunately he proves to be more than equal to the demands of each style.
Dave Ling, Raw Magazine
FAN COMMENTS
Dave Shaman is one of the most criminally underrated guitarists of our time! He has a superb playing style and a diverse range of material that should be recognised and given the merit it deserves. I would highly recommend all the tracks on this and Vol 2, you should take the opportunity to download Vol 1 and Vol 2 and experience some quality guitar playing. Hopefully the rest of the back catalog will be added soon and give this guy the exposure he so richly deserves. Purchase and enjoy
Ian Fletcher
Buy this with best of vol 2 and you will have near enough the best of the 3 cds. The 2nd and 3rd cds are two of the best hard rock cds I own, never having lost their appeal. This guy can rock!
James Porter