DAVE SHARMAN LIVE AT THE BBC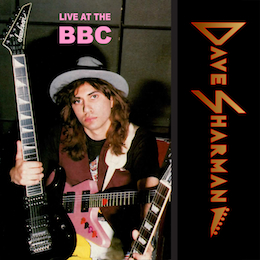 Spellbinder (Live)
Pandora's Box (Live)
Flight 212 (Live)
Torch The Tower (Live)
Available for the first time to own, Dave's live BBC Radio 1 Rock Show Session, which helped launch him on to the international music scene. Sharman's break came when as a teenager he sent a four track demo tape to the BBC. Soon afterwards Dave was invited by the show's producer Tony Wilson to record a much coveted session.
The Rock Show was for many years the UK's top source for rock & heavy metal and was originally hosted by much love DJ Tommy Vance, with Iron Maiden's Bruce Dickinson taking over in later years. During the broadcast Vance sounded out record labels declaring Sharman "a real world beater" and "a virtuoso wizard of a guitar player". BBC sessions have featured artists such as Led Zeppelin, The Beatles, Iron Maiden, Deep Purple, Def Leppard, Uriah Heep, Rush and Genesis to name but a few.
A band, including Deep Purple keyboardist Don Airey was assembled to back Dave's guitar work. The set comprised four original tracks: Spellbinder, Pandora's box, Torch The Tower and Flight 212, which for the first time are available to download on the iTunes store, under exclusive license from the BBC.
PRESS REVIEWS
"Dave's session triggered one of the greatest responses in the program's history – an impressive feat, considering that past guests included Iron Maiden and Def Leppard."
Guitar World Magazine