EXIT WITHIN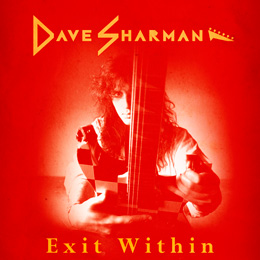 Man
Breeze
Home
Andromeda
Cos You're A Woman
Frantic
Attitude
Grace
Trucker
The River
6:50
3:50
5:13
3:41
3:34
1:50
4:03
3:15
5:05
2:16
Dave's second studio album is a display of his ever-increasing confidence as a songwriter whilst launching his guitar playing further still into uncharted territories.
PRESS REVIEWS
He has got a touch of the Joe Satriani about him has this kid, going for memorable melodies rather than hyperspeed hystronics, succeeding with tracks like the thumping 'Cos You're A Woman' and the frantic 'Trucker'.
Anthony Noguera, Metal Hammer
Opener 'Man' has some rugged rhythms to augment the fretboard fire and brimstone of the Boy Wonder. Elsewhere 'Home' comes across like a Dio power ballad and 'Cos You're A Woman' has all the sizzle n' spit of an on-form Blackfoot. It is his ability to incorporate raw chords, choppy tempos and free-form solos, all whacked through a distortion pedal and cranked up loud, that got my blood racing.
Sean Tyler, Kerrang Magazine
Exit Within is an evocative collection of tunes that showcase his remarkable virtuosity.
Dave Ling, Raw Magazine
FAN COMMENTS
I've been a huge fan ever since your first album 1990 and one of my favourite tracks of all time is Andromeda from Exit Within, thanks for all the great music, looking forward to hearing the new stuff!
Andrew Berry
Your album 'Exit Within' is the only album I bought after hearing Yngwie play (his albums). And you play awesome, especially my favourite 'Andromeda.
ShanDave Dass
It is very refreshing to hear someone with such monumental talent such as Dave Sharman.
Donnie