1990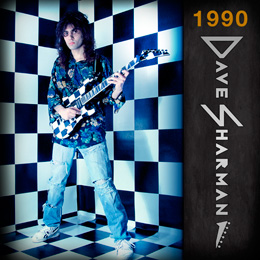 1990 Part I
1990 Part II
Borrowed Time
Forgotten Souls
Atomic Chaser
Southern Comfort
Spellbinder
Pandora's Box
Cloud 9
0:58
4:16
4:27
5:20
4:21
4:44
2:24
2:19
4:45
Dave's international debut, widely regarded as a guitar album 'classic' by critics and fans alike.
PRESS REVIEWS
Young Dave Sharman, is for my money the best guitar player I have heard since Vinnie Moore and Sharman's debut, '1990' is infinitely more pleasant on the ear than Vai's 'Passion and Warfare' .
Paul Miller, Kerrang Magazine
Dave Sharman, with his instrumental tour-de-force, '1990', may single-handedly redress the international balance, carefully blending solid song writing skills with a knock out hammering technique. '1990' cooks from start to end.
Pete Prown, Guitar For The Practicing Musician
Dave Sharman's '1990' is one of the most audacious and appealing rock guitar instrumental albums heard in a long time. Sharman is a self-taught guitar whiz, who is unimpressed by most rock guitarists. '1990' shows him to be a strong, lyrical player, with an innate sense of how to mix articulate speed runs with mature theme lines and cutting melodic solos for maximum effect. Witness a cut like 'Borrowed Time' which develops its mood with a huge dose of speed tapping, that swarms about your head like a cloud of belligerent gnats, before exploding into a rocking solo that serves as an emotional release before Sharman returns to that intense tapping theme, like on the following 'Forgotten Souls' a mysteriously developed melodic tale, Sharman impresses both with the scope of his guitar skills and his well conceived yet free spirited tunes. With a personal touch, he boldly jumps from blues to funk to metal without losing his voice. Sharman's a true monster, and one of the best of the new breed.
Buzz Morison, Guitar For The Practicing Musician
FAN COMMENTS
My brother bought me a copy of the album 1990, and we were both completely enthralled! Lightning fast playing with utter precision, but more importantly, amazing and beautiful songwriting!
Michael Durham
Spelbinder is the Greatist guitar shred Track of all time.
David Corrigan
My friend who worked for A&M records gave me a tape and said check this out you'll appreciate this as a musician and guitar enthusiast, I listened to it and had a new guitar hero added to my list.
Sy Hewitt