NIGHT OF THE GUITARS II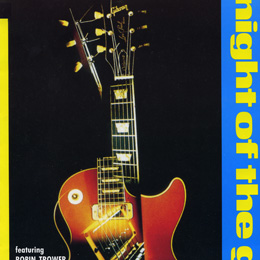 Borrowed Time
Forgotten Souls
Atomic Chaser
Dave was invited by Police and Sting manager, Miles Copeland to complete the lineup on Copeland's much anticipated 'Night Of The Guitars II' tour, it's previous incarnation had been a huge success and featured several well known artists in the form of Steve Howe of Yes, Robby Krieger of The Doors, Alvin Lee, Steve Hunter, Randy California and Leslie West of the band Mountain.
The line-up for the mark 2 version had so far penciled in Ronnie Montrose of 70′s rockers Montrose, Robin Trower formally of Procol Harum, Focus's Jan Akkermann, Rick Derringer, Saga's Ian Crichton and Laurie Wisefield of Wishbone Ash and Tina Turner, all that was now needed was a player who best represented the new era of guitarists and in Sharman they found their perfect match. Upon hearing Dave's debut, Miles wasted no time in contacting the youngster's management and arrangements were soon made to invite him onto the tour. Kick starting in Marseille France, the 8 guitarists would perform to over 200,000 people across 5 countries.
Dave's tracks 'Borrowed Time', 'Forgotten Souls' and 'Atomic Chaser' are available on Dave's critically acclaimed debut '1990' or on the compilations 'The Best Of Dave Sharman – Vol I and Vol II' featuring 20 of his best loved work, a must have for any true guitar lover. Buy now from the Dave Sharman store or iTunes.
PRESS REVIEWS
Witness a cut like 'Borrowed Time' which develops its mood with a huge dose of speed tapping, that swarms about your head like a cloud of belligerent gnats, before exploding into a rocking solo that serves as an emotional release before Sharman returns to that intense tapping theme, like on the following 'Forgotten Souls' a mysteriously developed melodic tale, Sharman impresses both with the scope of his guitar skills and his well conceived yet free spirited tunes.
Buzz Morison, Guitar For The Practicing Musician
Atomic Chaser' is funky, percussion fuelled and a positive guitar riot, and Sharman's at his best when the whole style of the song moves away from a rock beat.
Neil Perry, Select Magazine
Borrowed Time is a cinematic hard rock instrumental that wouldn't be out of place in a Sylvester Stallone or Arnold Schwarzenegger action movie.
Pete Prown, Guitar For The Practicing Musician